Written by Michael Zdanowski and Matt Dolman, Madano Energy
This week Madano's Energy Practice hosted a roundtable event exploring the neglected issue of energy equality in a digital world.
Senior figures from across the energy industry, Government and Ofgem gathered to hear speakers including James Heappey MP; Dr Nina Skorupska CBE (CEO, Renewable Energy Association); Jon Ferris (Strategy Director, Electron); and Peter Smith (Director of Policy and Research, National Energy Action).
With the energy revolution upon us, we wanted to find out whether the UK is in danger of creating a 'two-tier' energy system for the 'haves' and 'have nots'. We weren't expecting to find all the answers, and there's still more to learn, but here are our three key takeaways: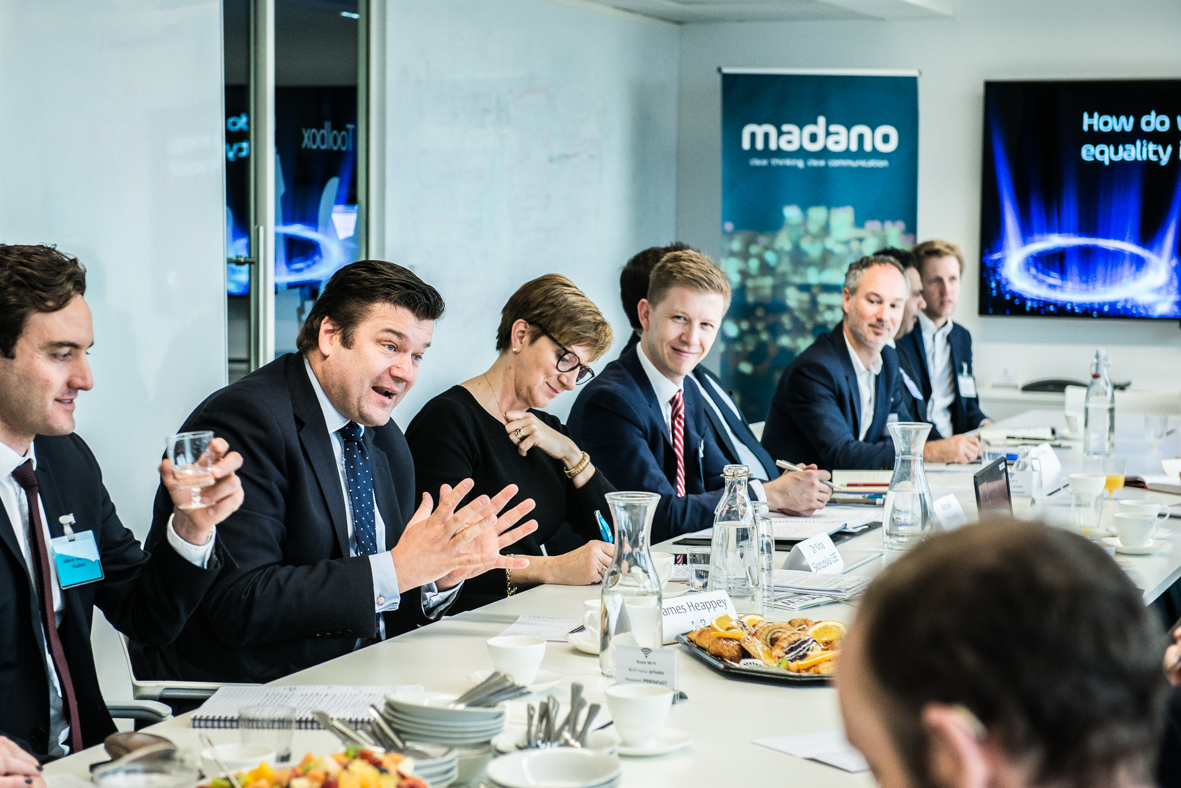 1) 'Digital by default' risks leaving the most vulnerable behind
Technology and innovation can do incredible things for energy, leading to a smarter, cleaner and more efficient world.
However, a digital-led and prosumer driven energy market, based on a plethora of connected devices, could mean that many homeowners lose out.
Households able to afford efficient appliances, connected devices and their own personal energy generation and storage devices could see lower energy costs.
Putting it another way, those that can't afford to upgrade are subsidising the home improvements of a few. As one speaker argued, inequality is already built into the system.
Solving this problem isn't easy. A price cap might help a little, but it won't address the institutional inequalities built into the system.
Conversely, many will question the fairness of imposing higher tariffs on those households that have upgraded their energy systems, another possible option for addressing the gap.
2) New homes and infrastructure need to be fit for the future
We need to create the physical infrastructure, digital systems, and regulatory regime to enable the energy system of the future.
Take electric vehicles – deployment will be stifled if homeowners have to worry about sorting out their whole street or paying higher tariffs when they need to charge both cars at once.
While plans for millions of new homes are welcome, it's imperative that new-build properties are built with energy efficiency, smart devices, and high capacity connections to the grid as standard.
Without managing these issues properly, there is a risk that EV owners and first-time homeowners will not benefit fully from the emergence of these new energy technologies because the full implications of the energy transition haven't been thought through.
3) We can't predict the future – but we can regulate for innovation
As one speaker put it, the only thing that's certain in the energy market is disruption.
The key is to embrace the inevitable changes and build a policy and regulatory regime that allows for future changes and takes consumers along with it.
We need to make sure that people don't 'switch off' from engaging with energy because a sophisticated algorithm or artificial intelligence is managing their bills. And we need to avoid the trap of regulating for today's system when tomorrow's technologies will render well-laid plans moot.
In planning for the new digital future, we can't forget about traditional technologies like boilers that need to be replaced and repaired, especially in fuel poor homes. Energy efficiency is a huge issue – simple improvements can be made easily to many homes. A new energy system must account for late adopters of digital technologies and for those 1 in 5 UK households without access to the internet.
Madano is a fully integrated communications consultancy that specialises in advising clients in sectors where communications are critical to success.
We would very much like to hear your thoughts about the issue of energy equality – please feel free to reach out to us.